Apostolic & Prophetic Emerging Conference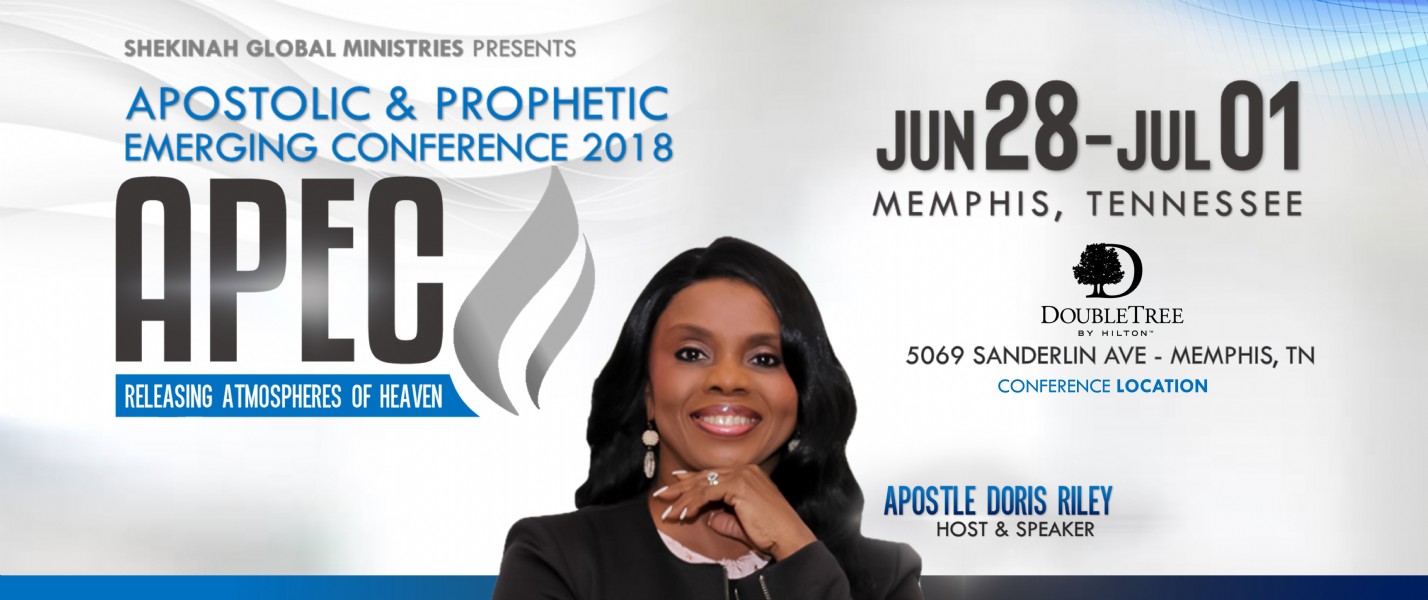 ABOUT APEC 2018
Shekinah Global Ministries Apostolic & Prophetic Emerging Conference (APEC) is where apostles, prophets, leaders, and all members of the body of Christ come together to Release a Sound to the Heavens. This four-day event will awaken, emerge and equip the believers for the high call of God upon their life. This is our 4th year hosting the conference in the Memphis area. The theme of this years conference is "Releasing Atmospheres of Heaven". The goal of APEC 2018 is to elevate your mind and ignite passion into you and/or your ministry team to operate beyond the normal limits. It is time to EMERGE! ARISE! Apostle Doris Riley along with her husband Elder Joseph Riley, are the founders of Shekinah Global Ministries and leaders of this conference. Alongside Apostle Riley will be a group of national and international speakers and leaders. This conference was birthed out of prayer. We have many speakers, performances, and breakout sessions planned. We are so excited about APEC this year! There is a push in this season for us to rise above the norm and walk into the anointing of God loaded with power and full of the Holy Spirit.
---
ACCOMODATIONS
CONFERENCE VENUE
Doubletree by Hilton
5069 Sanderlin Avenue
Memphis, TN 38117
HOTEL INFORMATION
Doubletree Front Desk
901.767.6666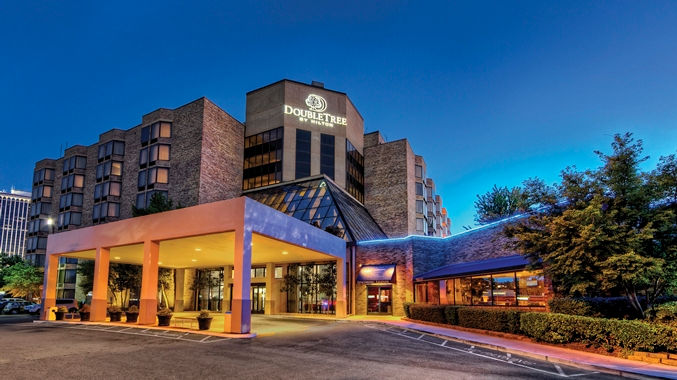 ---
GUEST SPEAKERS
JEFF JANSEN
Jeff Jansen is Founder & Senior Leader of Global Fire Ministries International in Murfreesboro, TN. The mission of GFMI as an Apostolic and Prophetic ministry is to pave the way for personal, city, regional, national and World revival. The ministries of GFMI include: Global Connect, Global Fire Churches, Kingdom Life Institute, Global Fire TV, and international conferences and crusades. Jeff Jansen is well known for his Miracle/Healing anointing and Prophetic ministry worldwide, often giving revelatory directives for not only individuals but regions and nations. Jeff is founded of Global Fire Church Murfreesboro, from which the Global Connect initiative of church planting and networking was birthed.
FOLLOW APOSTLE JANSEN
WESLEY J. ARIJE
Bishop Wesley J. Arije is Prelate, Presiding Bishop and Chief Apostle of the March of Faith International Fellowship. Reaching 19 countries on 4 continents worldwide, Bishop Arije oversees more than 150 churches across the nations. He is the Senior Leader of Pavillion of Hope (two locations in Memphis and one in Dyersburg, TN). The hand of God is evident upon his life with supernatural signs and wonders following! He is a world-renowned orator and author who has published three books, "Soaring as Eagles: Unleashing the Christian Eagle Within," "Created to Hear the Voice of God" and "Unleashing the Power of Communion." Bishop Arije is passionate about establishing the kingdom of God across the nations!
FOLLOW BISHOP ARIJE
DARLA MARTINI
As a mother, Nana, entrepreneur, and minister Darla has spent years learning to balance herself in family, business, and Kingdom. She has learned to leverage the keys of wisdom in the Word to excel in business, ministry, and life. Darla has spent more than 30 years as a successful entrepreneur spanning many industries and innovations. Darla is also the founder and visionary of The Hub in Central Arkansas. And leads a network of several other ministries and leaders across the United States. She travels the globe teaching, motivating, training and building.
FOLLOW APOSTLE MARTINI
MANUEL DONIS
Apostle Manuel Donis is the Senior Pastor and Leader of Rivers of Life International Ministries. Located in Grand Junction, TN, this ministry has elevated to be full of fire and power of God impacting the community. He is the the Assistant Presiding Bishop of the March of Faith International Fellowship and strategically leads all churches within the Southern Region of the Fellowship. Manuel Donis comes from a background that allows him to connect with the harvest outside the walls of the kchurch. From the streets of New York to Africa, Apostle Donis has travelled the globe spreading the gospel of Christ through salvation and redemption.
FOLLOW APOSTLE DONIS
SHARON NESBITT
Apostle Sharon Nesbitt is the founding Pastor of Dominion World Outreach Ministries, a multi-racial, non-denominational ministry, located in Marion, AR. She is a coveted spiritual leader, philanthropist, author and humanitarian. Dr. Nesbitt motivates an inspires people to reach beyond cultural and socioeconomic barriers. She continues to sow seeds that will produce a harvest for generations to come.
FOLLOW APOSTLE NESBITT
---
EVENT SCHEDULE
ALL CONFERENCE EVENTS ARE FREE EXCLUDING APEC ROUNDTABLE & IMPARTATION*
THUR JUNE 28

FRI JUNE 29

SAT JUNE 30

SUN JULY 1

7:00PM

10AM - 2PM - 7PM

10AM

MORNING SESSION

5PM

"Release the Atmosphere of Heaven"

PROPHETIC WORSHIP ENCOUNTER

ALL DAY BREAKOUT SESSIONS

Miracle Explosion Service

MIRACLES EMERGE

//////////////////////////////////////////////////////

12Noon

APEC Roundtable & Impartation

*SPECIAL SESSION - FEE*



APEC ROUNDTABLE & IMPARTATION SESSION
This APEC Roundtable & Impartation will a setting where you, your team and/or church leaders will be able to catapult into the next dimension of ministry. This powerful impartation session will be reserved only for registered participants. This Roundtable will be a groundbreaking event for all those who are seeking Impartation and Activation of the high call of God on your life. This is a special private session with Apostle Riley and the guest speakers. ALL OTHER CONFERENCE EVENTS ARE FREE. The Early Bird Registration Fee is $75 for this Roundtable & Impartation Session. Click Here for More Information

REGISTRATION
Click Here To Registration of all other APEC Sessions
Also Available on Eventbrite
---
---